We think you will appreciate the warm and friendly manner in which we treat patients. Our commitment is to apply our dental knowledge and skills in a caring and gentle way, so you can feel at ease as we help you attain the smile you desire.
Through excellent preventive, restorative, and cosmetic dentistry PLUS technologies that make dental visits more pleasant than before we work with you to achieve a smile that can maximize your personal health and appearance, and raise your self-esteem. We're also a kid-friendly office, and we want you to know that we enjoy patients of all ages!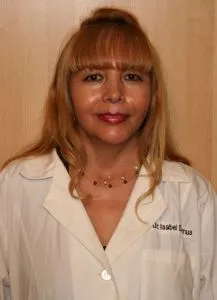 Dr. Isabel Lemus DDS
Cosmetic & General Dentist In Teaneck, NJ
I.D. Lemus Dental, LLC
Dr. Isabel D. Lemus is originally from La Paz, Bolivia. She has been working in a private office for over fourteen years in the USA. Dr. Lemus is bilingual in English and Spanish and is practices General Dentistry.

EDUCATION:
Columbia University and Presbyterian Hospital, New York, New York Residency in Advanced Education in General Dentistry (AEGD).

New York University College of Dentistry , dental school, New York, New York.
Diploma: Doctor of Dental Surgery, D.D.S.

Bergen Community College , Paramus, New Jersey.
Diploma: Dental X-Rays Technologist.

San Andres University College of Dentistry , La Paz Bolivia
Diploma: Doctor of Dental Surgery, D.D.S.

POST-GRADUATE COURSES:
Aesthetic Dentistry (Techniques of Veneers, Cosmetic Dentistry involving anterior bonding, zirconium crowns), Implants, TMJ, Oral Pathology, Emergency Dentistry, Pediatric Dentistry, Cultural Competency, and, HIV-related primary oral health care.

CLINICAL SKILLS:
Endodontics : Root canal anterior and molars.
Prosthodontics : Competent in veneers,inlays,onlays,crowns,bridges, partial, and, complete dentures,Implants restorations .
Oral Surgery : Basic extractions.
Periodontics : Scaling, root planing, and minor perio-surgery.
Restorative Procedures : Aesthetic bonding, Composite, and amalgam buildups.
Emergency Care : Pulpotomy, pulpectomy, and extractions
Ortho : Clear Correct (Invisibles trays)
LANGUAGES SPOKEN:
English and Spanish
---
Our Team
Dr. Isabel D Lemus DDS aims to provide individuals with a comfortable and relaxing environment where we strive to exceed your expectations through professional results and our friendly staff.